Are you looking at your computer with an annoying look, because of a "Your connection is not private" instruction flashing on its screen?
While Chrome is a very reliable and popular web browser designed by Google, it sometimes shows a few errors and issues.
Solve Your Connection Is Not Private Message In Chrome
Chrome privacy error is one such issue. When this error arises, Chrome doesn't let you open a website. Instead, it warns you against the attackers who may steal your information, if you have not installed antivirus or encryption into your computer.
With increasing cases of cybercrime and internet fraud coming into the limelight, it is evident to panic when this message pops up. But, there is nothing wrong about it.
So, you don't need to be afraid of this kind of news. It is like a security procedure of Chrome. Like the security officials, when Chrome finds any mistake with a site, it just prevents its access to protect the PC. 
Causes Of Chrome Privacy Error Issue
This error arrives on your web page because of the following reasons:
Sometimes Chrome can't verify the SSL certificate of the website you would be trying to reach. SSL certificate confirms if the website, as mentioned earlier, is safe or not. SSL (Secure Sockets Layer) is a data-encryption method that keeps transmitted data safe and private.
Google can't access the SSL certificate of a website in cases when either the certification of the website had expired, or a trusted organization didn't issue that.
Another common cause of this error is a wrong date and time settings of your computer. You will not be able to connect with the internet properly if the date and time of your PC are not right.
Sometimes, issues arise with Chrome's extension or your antivirus software. In such a case also, Chrome doesn't work correctly, and errors are displayed on the screen.
How Can One Fix a Privacy Error In Chrome?
There are various ways to fix this issue, but the solution depends upon the reason for which you are facing this issue. If you figure out the cause, then you can quickly solve this problem.
Check and Change Date and Time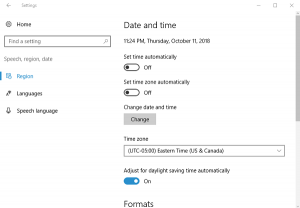 In those cases where you have installed a new operating system or moved into a new time zone, most commonly, this error occurs because of a mistake in date and time.
To check or change the date and time, you need to follow the following instruction:
Step 1: Settings are opened by pressing Windows + I key.
Step 2: The user is asked to change the time and date.
Step 3: The user is asked to choose the options set time automatically and Set time zone automatically.
For Windows 7 or 8.1 users;
Step 1: The user is asked to open "Date and Time settings". A new window opens in the taskbar.
Step 2: "The user chooses Internet Time" option.
Step 3: He is asked to select the option of "Change settings".
Step 4: The option "Synchronize with an Internet time server" is marked. Inside that server, "http://time.windows.com" is selected.
Step 5: The option of Update now is clicked, and then the OK tab is clicked.
The user can now restart Chrome to see if the issue is resolved.
Remove or Disable Chrome Extensions
If your date and time settings are correct, then there is a chance that the error must have arisen because the Chrome extension was not working correctly.
To verify if this is the reason, the user can open the required page in incognito mode. If it opens up correctly, you can be sure that their Chrome extension is facing some problem.
In such a case, to solve this issue, one has to remove or disable the Chrome extensions.
Step 1: The link "http://chrome://extensions/" is typed on the address bar, and the enter button is pressed. A new page displaying all installed extension lists will open.
Step 2: The toggle is turned off to disable the extension temporarily. Remove option can also be clicked to delete the attachments completely.
If either of the options as mentioned earlier is not the reason behind the error, then it could be caused by antivirus programs because those are over-sensitive.
But, if one is sure that the website he is trying to reach is free from virus, malware or spam, he can change the setting of his antivirus program and set it on OFF.
The SSL scan can be turned off to visit the required sites.
Unable to find such settings, one can also turn off the antivirus program. But, in a case, your computer becomes vulnerable to attack by malware; thus, you have to make sure that the websites you would be reaching are safe.
Check if the SSL certificate of the website has expired or not.
If you are sure that a website is safe, and still Google is not allowing you to access it, high chances are there that the certificate of the website would have expired.
In such a case, you can clear SSL certificate cache by following the following steps;
Step 1: Window Key + R are pressed first. After that, "inetcpl.cpl" is typed. After the Enter key is pressed, a dialogue box of internet properties opens.
Step 2: The user is required to switch to the content tab and asks to click on the actual SSL state.
Step 3: The user is asked to click on apply.
The user must reboot his PC to allow the changes to take effect.
Chrome is not the only search engine that shows this issue. In other browsers, these issues also arise with a difference. However, the troubleshooting steps are the same for every browser.